It's the biggest hectare I have ever seen!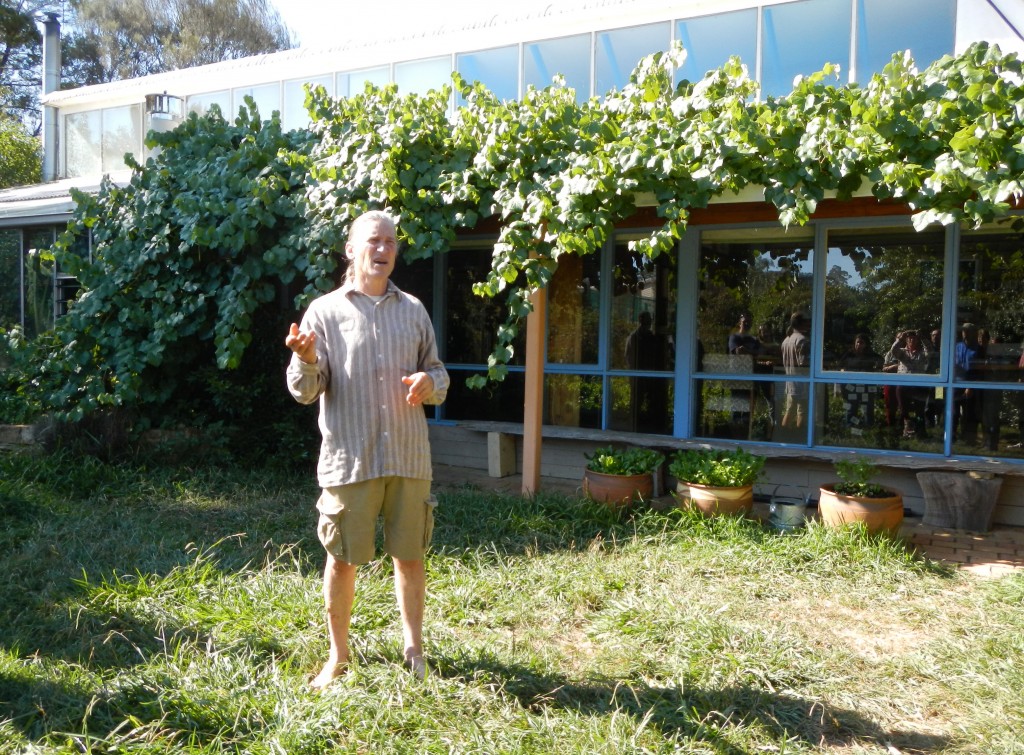 David Holmgren's farm "Melliodora" is located in Daylesford, VIC. It covers mere 2.5 acres, yet it took us 5 hours (!) to briefly discuss its design and features. David's house is open for tours once a month, and is well worth it. The tour can be booked on his website, come and see for yourself, if you like. Or check out some photos and facts below :)

Five most memorable David Holmgren quotes:
"Orchard should pay the rates on the house."
"People that eat from the land adapt deficiencies of that land."
"Plants are either spiky OR poisonouse, but rarely both." This was said about Gorse, which is a 'noxious weed' in Victoria, but is actually edible to goats.
"Corporations are immune to moral influences."
"Passive solar – active humans." In a passive solar house, when temperatures outside are higher than inside, active humans need to go around and open every vent possible. And vice versa.
Other memorable facts:
David's mud-brick house is 25 years old
The cost to build the house (25 years ago) was roughly $80K
David and his family burn about 5 to 7 tons of wood each year, which covers all the cooking, hot water, heating and food-preservation fires
The main source of heat in a passive solar house is the greenhouse
Mud bricks coated with linseed oil are highly water resistant
On compost: what goes into the compost pile determines the type of plants that will grow out of it. Woody compost makes woody plants. Soft compost materials rot into soft plants food.