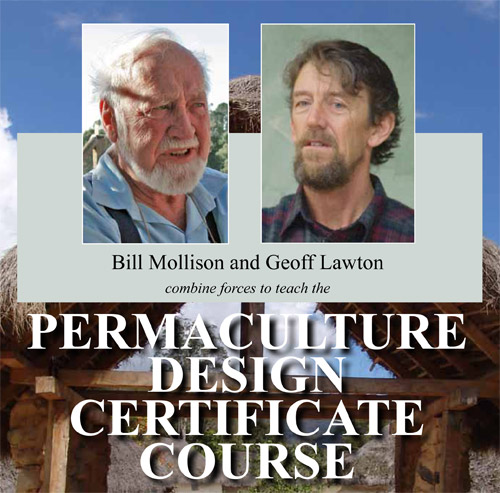 If you are considering certification in Permaculture, I can't think of a better opportunity than this.
This is a unique chance to get your Permaculture Design Certificate (PDC) from two of the longest-running and most informed Permaculture teachers. As soon as I learned of this opportunity, I signed up!! I hear that every PDC is different depending  on the teacher. It does cover the same topics, but each instructor brings his or her own stories to the class, and Bill Mollison has a lot of those to tell.

And if you are not able to attend, come back to this website after October 2010 for a full recap!
Course details from Tagari website:
BILL MOLLISON, the legendary Permaculture teacher, promoter and designer – who, over 26 years of non-stop travelling, designing, teaching and writing, personally planted the seeds of Permaculture in over 120 countries. Bill is the founding director of The Permaculture Institute, the first and longest running Permaculture Institute in existence.
GEOFF LAWTON who is world renowned for field expertise and extensive teaching experience in the ecological "badlands" of Earth, areas of extreme cultural conflicts, as well as more friendly environments. Founding director of the acclaimed Permaculture Research Institute, Geoff is working in more countries and co-coordinating more projects on the ground than any other Permaculture Institute today.
This course is the full 72 hour Permaculture Design Certificate course including all theory and practical exercises necessary to enable a student to become a Permaculture designer and teacher and can lead on to full teacher registration and Diploma of Permaculture Design with the Permaculture Institute.
For more information and to book, visit www.tagari.com/courses/pdc_sept_2010